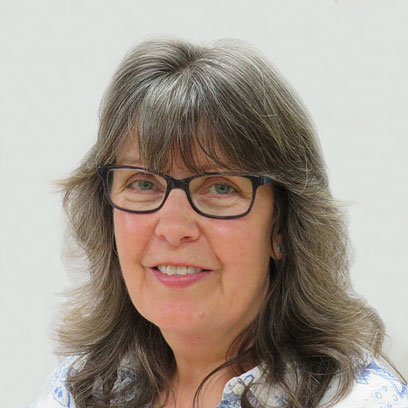 Fiona Wilson
About Fiona:
Works as CBT Therapist at First Psychology Centre, Dundee.
Languages spoken:

Fiona Wilson is an experienced CBT therapist who works with individual adults and
couples
with a wide range of issues and problems including: depression; anxiety (including social anxiety, GAD, and health anxiety); stress; assertiveness; gender and sexual identity; chronic illness; life transitions; relaxation; phobias; bereavement/grief; eating and body image issues; obsessive compulsive disorder (OCD); trauma; post-traumatic stress disorder (PTSD); relationship issues; autism spectrum; self-harm; and many more issues.
Fiona's main areas of specialism are persistent depression, OCD, and trauma and she also has substantial experience of working with all anxiety disorders.

Fiona is also an experienced clinical supervisor in cognitive behavioural psychotherapy (CBP) and she is able to offer supervision to CBP practitioners.

Fiona's way of working
Fiona works in a flexible, collaborative way with clients and tailors her approach to meet the needs and preferences of each individual. She uses a number of evidence-based therapies in her work including counselling/psychotherapy; Cognitive-Behaviour Therapy (CBT), Trauma-Focused Cognitive Behaviour Therapy, Eye Movement Desensitisation and Reprocessing (EMDR), and Cognitive Behavioural Analysis System Of Psychotherapy (CBASP). Her focus is on developing a sound and trusting therapeutic relationship with each client so they have a safe space to explore and develop a greater understanding of their problems and learn skills to aid change and resolve difficulties. As well as working during the session, Fiona may ask clients to complete 'between session practice' to aid the development of new approaches to their problems.

Fiona's background and training
Fiona has more than 25 years' experience of working with clients using CBT and over 35 years' experience of working within mental health services. During this time, she has worked in a number of settings within the NHS including several mental health services. Most recently, Fiona worked as a senior adult psychotherapist in a multidisciplinary adult psychotherapy service. Fiona initially trained as a mental health nurse.
Fiona has a Post-Graduate Diploma and an MSc in Cognitive Behavioural Psychotherapy (from the University of Dundee). In addition, she is accredited in the Cognitive Behavioural Analysis System of Psychotherapy and she has completed training in Eye Movement Desensitisation and Reprocessing Parts 1-3.
Fiona is an accredited member of the British Association of Behavioural and Cognitive Psychotherapies (BABCP).
Fiona's fee
Fiona charges £80 a session for self-funding clients. She also works with clients referred via their employer/organisation – for further details, please visit
First Psychology Assistance.